Many women suffer from heat-damaged hair. Contrary to appearances, you don't need to reach for a flat iron twice a day to achieve that. Merely blow-drying regularly gradually takes water and keratin out of the hair, causing dryness. Thankfully, there are remedies to handle the problem and prevent damage. Why don't you try a new arrival from Nanoil? The Nanoil's Heat Protectant Spray works brilliantly and it's good to put it right next to your dryer, straightener or curling wand.
As the name suggests, a heat protectant is meant for protecting our hair. It does that by creating a shield that keeps the hot air from affecting the strands and destroying them. It should be used every time we style the hair using a flat iron or curler, but also prior to blow-drying.
What benefits does the Nanoil Heat Protectant Spray bring?
A thermal protection spray produces effects that we can spot right off. The very first use leaves the hair more resistant to the external aggressors, and the heat of course. Still, the spray by Nanoil brings many more benefits!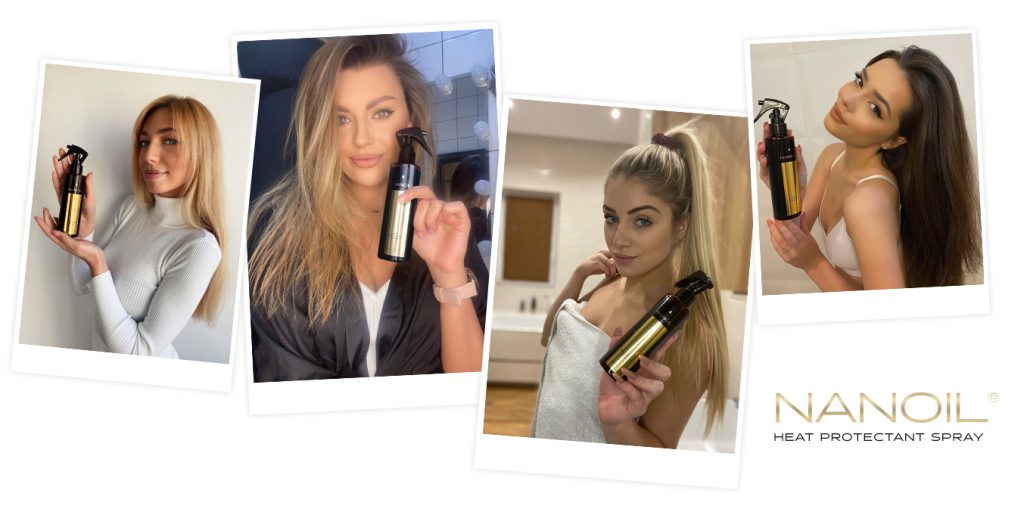 The extra effects of regular use of the Nanoil Heat Protectant Spray:
silky-smooth hair
wonderful gloss
softer strands
increased volume
no more frizzy flyaways
Most of the benefits are the result of putting hydrolyzed silk into the formula. The ingredient is loved by thin, thick, colored, damaged, healthy hair… or any hair, to be honest. Regular use of the spray improves the condition as well as looks of hair.
How to use the Nanoil Heat Protectant Spray?
Comb your hair out as usual.
Get your Nanoil and spray it on, holding the bottle around five inches away from the strands. Put more product on the ends. Try to avoid the scalp area.
Wait for a few minutes.
Get to styling or blow-drying.
Bonus: the innovative formula doesn't weigh down the hair and neither does it form a sticky coating on its surface. Because it's a water-based spray, it's easy to use and so light that you wonder if you've put anything in your tresses.
Where to buy the Nanoil Heat Protectant Spray?
The Nanoil Heat Protectant Spray is available on many websites, but we recommend getting it through the official site – www.nanoil.us – where you can get discounts and fast shipping.