Is your complexion irritated, reddened and shows broken capillaries? Try one of the best serums for couperose skin and help yourself feel beautiful in your own skin.
Here are the top beauty offerings proven to deliver stunning results. Seven best face serums for couperose skin whose effects handle even the most reactive skin. All of them are formulated with the finest ingredients to ensure high effectiveness and care that suits even the most demanding skin types, which couperose skin definitely is.
Why serum, not cream?
First thing is that a serum delivers stronger results, but what really makes it superior to a face cream is the ability to penetrate epidermis and work inside the skin. Another difference between these two care products is the fact that unlike a cream, serum is more lightweight (applies mainly to water-based serums), which makes it suitable for all skin types. Serum doesn't clog pores or leave an oily feel on the face. Provided that you choose the best face serum, of course.
The best serum for couperose skin
Consumer reviews are what aids you in finding the right serum – if it's popular and receives favorable reviews, it's highly possible that the product it's worth its price. The only thing, however, is that you must remember to always match the care product to your skin needs. What should you care for if your skin is couperose?
In the case of couperose skin, a serum should be not only lightweight but also enriched with ingredients that target weak capillaries. Look for horse chestnut, arnica and ginkgo extract to name just three. Simple formula is another important issue. It needs to contain only necessary components because causing irritation to couperose skin with a product that isn't all-natural is too easy, unfortunately. That's why you should steer clear of essential oils, alcohols and too much preservatives.
Which face serum should you choose?
Here are 7 face serums for couperose skin that are worth taking into consideration while looking for the ideal care product for yourself. Which one will you pick?
1. Face serum for couperose skin Nanoil Anti-Redness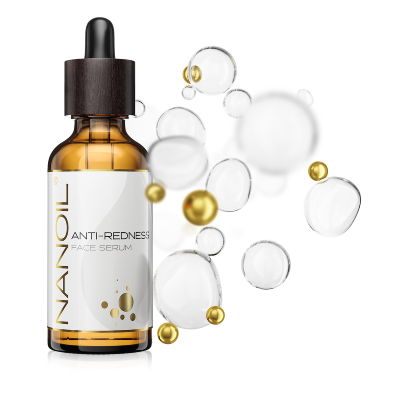 Number one among face serums for couperose skin, one of the top-picked offerings, a product recommended by skin specialists. One of its biggest pluses is the simple and ultra-lightweight formula that skin soaks up within just a few seconds. This is a serum that brings instant relief, reduces redness and leaves skin visibly healthier. By repairing the walls of capillaries, Nanoil Anti-Redness Face Serum makes them more elastic which in turn eliminates the problem of spider veins. Nanoil serum for couperose skin contains linden, horse chestnut, cypress and Indian Punarnava extracts. It's application is really pleasant and the effects are delivered quicker than other currently available care products. This is a formula that every sensitive skin will love.
For more information visit – www.nanoil.us
2. Face serum for couperose skin Avebio Bio Oil Antired Elixir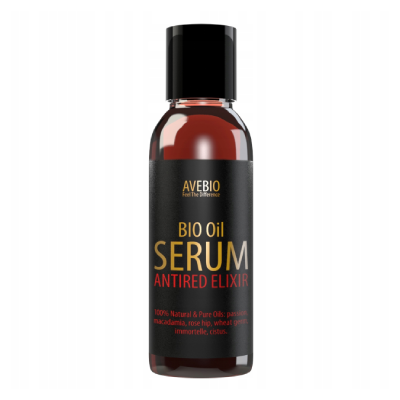 An oil elixir formulated with as many as six different extracts taken from macadamia nuts, wheat germ, passion fruit, rosehip seeds, purge and strawflower. They dominate the composition and help the serum deliver promised results. Being the only product made entirely from oils makes Avebio face serum for couperose skin quite an unusual cosmetic. This means that you need to use it carefully because the risk of clogged skin is pretty high. And once the skin is clogged, it starts to secrete more oils, which leads to a shiny face. However, when used according to the instructions, the serum banishes irritation, nourishes the skin, maintains hydration, delays aging and strengthens the walls of blood vessels.
3. Face serum for couperose skin Norel Dr Wilsz Sensitive Facial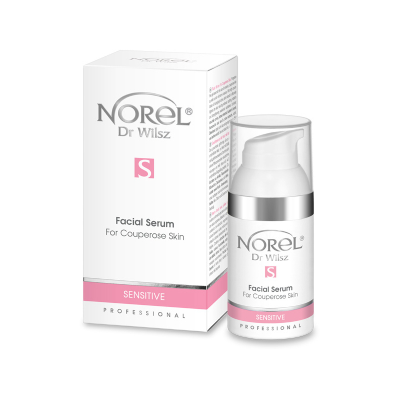 The Norel serum for couperose skin is a gel-like formula made to soothe irritated and reddened skin. It suits complexion with broken capillaries and rosacea. Based on an extract of arnica flowers, the serum reinforces and improves weak capillaries. Other extracts used in the serum are horse chestnut, ruscus, hamamelis and devil's claw. Norel Sensitive Facial serum is destined for morning and evening application. The producer instructs that the serum performs better when you follow it with a face cream that comes from the same cosmetic line. Then the serum is said to brighten discoloration, eliminate the problem of broken capillaries, reduce puffiness and provide protection.
4. Face serum for redness Bandi Veno Care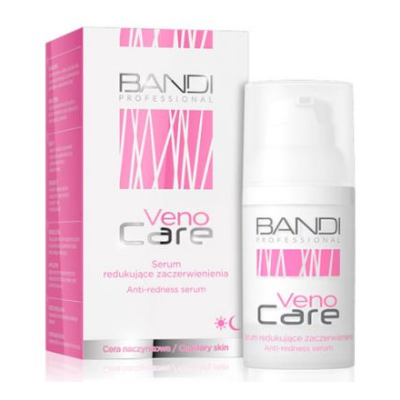 Bandi Veno Care Anti-redness Serum is another recommended care product for reactive skin. This lightweight serum is destined to cope with problematic skin and contains d-panthenol, cypress, chestnut and linden extracts, combined with rutin and a blend of licorice, mulberry, peach and Baikal skullcap extracts that leave skin brighter. Such formula deals with irritations pretty well, nourishes the skin and erases broken capillaries. It's recommended to use Bandi serum for couperose skin only as a temporary redness-reducing treatment, as well as to prevent reactive skin problems.
5. Anti-ageing serum for couperose skin Iwostin Capillin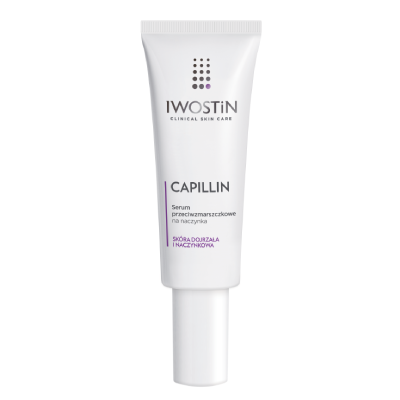 You can take good care of couperose skin also when it's mature, thus showing common concerns such as wrinkles, age spots and sagging. This is exactly what Iwostin Capillin serum was made for. The amazing thing is that just a single application reduces redness and erythema. The more you use it, the less serious the problems of mature skin and broken capillaries is. When it comes to the formula, it's made from vitamin C that leaves skin brighter, allantoin that soothes irritation, as well as a blend of common ingredients used in the Iwostin Capillin series (Neutrazen, Pronalen Aesculus, AquaJuve Q MIX 5%). Last but not least, the serum has a fairly thick formula.
6. Face serum for redness Exuviance AntiRedness Calming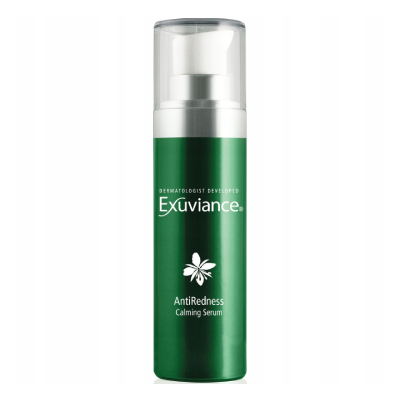 One of the most expensive serums for couperose skin included in this list. Its soothing formula is designed for day-to-day use. Horse chestnut extract and several other uncommon plant ingredients – including licorice and white tea – make Exuviance AntiRedness Calming an interesting offering for sensitive and rosacea-prone skin. On the other hand, the serum also contains peptides, caffeine and lactobionic acid which are known for delivering a stronger effect. The thing, however, is that these ingredients increase the risk of irritation, especially when the serum is applied to extremely sensitive skin. This is a thing worth bearing in mind especially if your skin is hyper-reactive.
7. Face serum for couperose skin Apis Couperose-Stop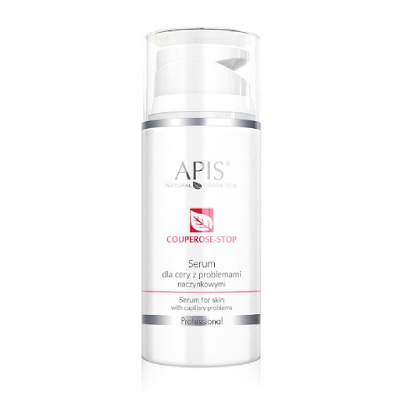 And here's another serum to deal with vascular lesions. It's perfect for daily use to combat common problems of couperose skin like facial redness and dilated capillaries. Even though the texture is pretty thick, especially as for a face serum, skin shouldn't have major problems with absorbing the product. Apis Couperose-Stop supplies skin with vitamin C, ceramides, silk proteins, algae extract and ginkgo biloba extract for stronger capillaries. It's not an expensive product which means that you shouldn't expect it to give you immediate results, however, when applied for a longer period of time, it works as promised.