Your hair is damaged so you reach for keratin hair mask. This is a reasonable thing to do, but do you know that not all keratin masks work in the same way? Sounds bad? No worries because we've got you covered. Here are 10 best hair products that you can use to expose your distressed hair to the life-saving keratin treatment. Check what cosmetics can help you revive damaged hair.
Fixing damaged hair requires patience, self-discipline, persistence and expert help. Making use of just a random conditioner when the hair is brittle, breakable and splitting may not suffice. What should you do then?
Fix for damaged hair? Only keratin
The one-and-only substance needed by damaged hair is keratin. This very protein is essential in a hair treatment aiming at damage repair. Why so? Because hair is made from keratin. By delivering keratin to hair, you fill in the cracks that appeared on and within the hair, making it stronger and improving its resistance to damage. Interestingly, keratin added in hair products has various forms. Definitely the most effective one is hydrolyzed keratin because its molecules are smaller, thus able to penetrate deeper. That being said, it's advised to look for products enriched with the right form of keratin served in adequately high concentration. Finally, if keratin isn't the key ingredient of a hair product, but only an additive, the effects created may be far from satisfactory.
Keratin in hair care
There are plenty of ways of supplying hair with keratin. For example, you can visit a hairdresser and ask for the keratin treatment, also known as a semi-permanent hair straightening treatment. Despite being one of the most popular hair repair treatments, getting it done doesn't make much sense when the market offers keratin hair masks that are perfectly able to deliver similar, or sometimes even better results. A good keratin hair mask doesn't only repair and strengthen the hair but also provides protection and reveals better-looking strands. And the best thing about such products is that you don't even have to leave home to get these amazing effects!
Supplying hair with a keratin hair mask is an exceptionally effective way to get healthier strands because such products work inside the hair by design, which is where the repair is needed most. With every application, the tiny protein molecules are delivered to the damaged strands in order to repair and reveal stronger and healthier hair. You can feel it and see it.
What are the qualities of a good keratin hair mask?
Now, when you finally have the solution, you can take up the action. The things get a little bit complicated after realizing that there are almost a countless number of keratin hair masks available in the local drugstores and online. Which one is the best? Should you choose the cheapest hair mask, or perhaps the high price stands for the high effectiveness? What should you do when you don't know which hair mask to pick? The best solution would be to check if the hair mask you're holding in your hands offers:
a heavy concentration of keratin (it can't be listed at the end of INCI)
natural formula free from parabens, phthalates and PEG-s
extra nutrients, e.g. vitamins
a lightweight consistency (reduces the risk of limp and flat hair)
10 BEST KERATIN HAIR MASK PRODUCTS
If searching for the ideal hair mask on your own is a task that you aren't eager to undertake, or if you simply don't have the time to do it, see the hot tips below. The offerings that are aptly called the best, which is proved by the reviews, the value-for-money ratio and results. Take a look at the best keratin hair masks owing to which the battle for fabulous hair becomes a pleasant and well-planned action with a happy end.
Which keratin hair masks are the best?
1. Nanoil, Keratin Hair Mask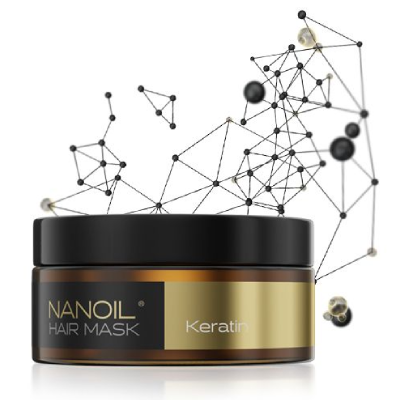 Number 1 among all keratin hair masks. Nanoil Keratin Hair Mask wins in the consumer opinion surveys because it offers the maximum effects that go hand in hand with a competitive price. Interestingly, this product contains hydrolyzed keratin and panthenol that both strengthen and repair hair from the very first use. It makes hair restore its smoothness, resilience and gloss. The desired results are seen after one use. One of the biggest pluses of Nanoil keratin hair mask is the fact that it's super-lightweight, meaning that it doesn't strip hair off volume. Lastly, this product embraces the strands with a beautiful aroma, and its formula is simple, cruelty-free and well-developed. You can feel this high quality. More on nanoil.us.
2. Rene Furterer, Absolue Keratine Ultimate Repairing Mask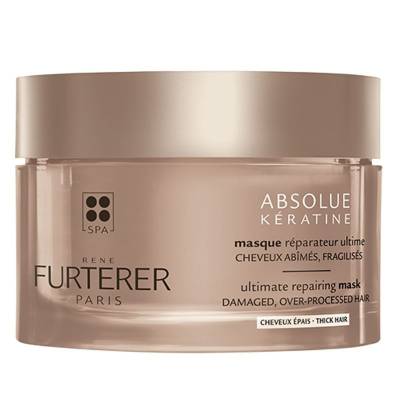 Repairing hair mask launched by a French brand – Rene Furterer – is another interesting offering, even though it's significantly more expensive and available in a smaller size than the hair mask mentioned above. This product is designed for conditioning damaged hair because it makes use of the power of plant-based keratin, plant oils and hair-improving substances. Keratin hair mask from Rene Furterer repairs, reconstructs and rejuvenates, and on the top of that it offers an intensive bergamot, peony and cashmeran wood aroma. Sadly, the limited availability of Absolue Keratine cosmetics from Rene Furterer, including the very hair mask, may be a little discouraging.
3. Lanza, Keratin Healing Oil Intensive Hair Masque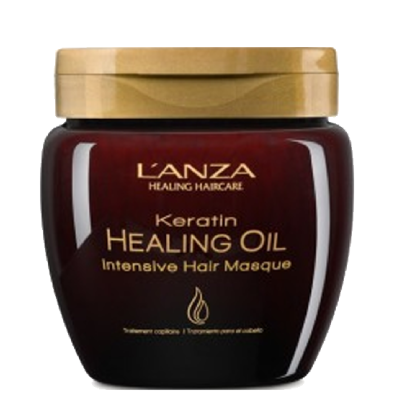 Another popular keratin hair mask is offered by Lanza. Hands down, this is an elegant product destined for deep hair repair treatment. Obviously, it's not the packaging that matters but the ingredients. What can be found in this mask? The combination of keratin and a nourishing oil blend (e.g. coffee and açaí). Thanks to these set of ingredients Lanza hair mask amps up the beautiful, healthy shine as well as straightens hair by improving its resilience and leaving it smooth. Unfortunately, this isn't the ideal product – a high price and small size are its two downsides.
4. Virtue, Restorative Treatment Hair Mask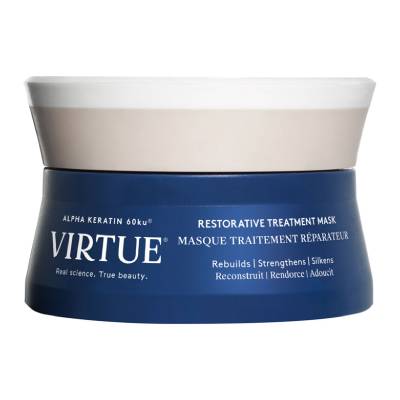 When it comes to price, the majority of keratin hair masks are the top-shelf products, so is this cosmetic. Creamy hair mask from Virtue costs a mint, but for this money you get a hair repair treatment that doesn't overburden the strands. The key ingredient used in this product is a unique protein-based blend named Alpha Keratin that makes rehydration and nourishment possible. The producer recommends using this keratin hair mask on all types of hair, but the truth is that the product seems to be the best option mostly for those whose hair is brittle and breakable.
5. Wella SP Luxe Oil, Keratin Restore Mask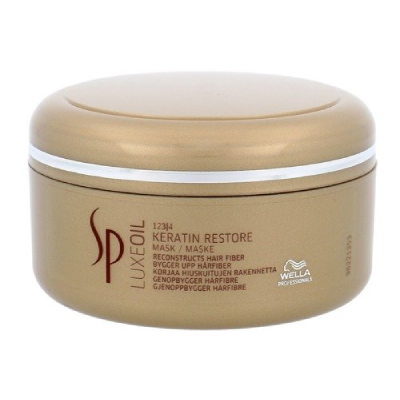 A well-known hair brand Wella Professional has a keratin hair mask in its offer too. This is the mask from Luxe Oil series that combines keratin with three precious oils: argan, jojoba and almond. Keratin hair mask from Wella SP is a deeply nourishing formula that fixes damaged hair, repairs and strengthens. It has to be used systematically after every shampooing. It's a pity that its small size translates into a short-term treatment. It gets even worse after realizing that the price doesn't make up for the small quantity.
6. Schwarzkopf, BlondMe Keratin Restore Bonding Mask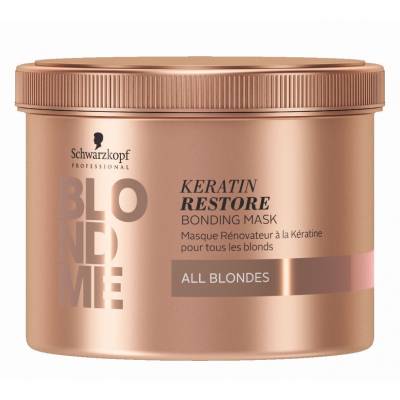 Another well-known hair brand – Schwarzkopf – made use of the powerful keratin and incorporated it into their BlondMe series. Since its main tasks are to intensify the color and reverse damage, this product is mainly destined for color-treated and bleached hair. Of course, this doesn't mean that those looking for deep hair repair treatment can't reach for Schwarzkopf BlondMe keratin hair mask. This product nourishes, fixes and improves resilience in hair, and on top of that it also provides protection against harmful factors such as UV rays.
7. Damila, Deep Treatment Mask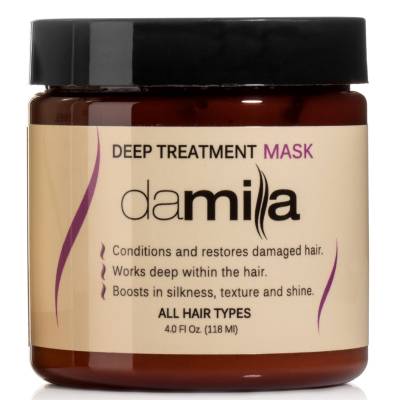 A fairly interesting option, as far as keratin hair mask products go, is offered by Damila and its Deep Treatment Mask. The poor availability of this hair mask may be slightly demotivating but there is one attribute of this cosmetic that makes it worth looking for – the price isn't exorbitant. In this product you can find hydrolyzed keratin that – obviously – repairs the damage. But there is more to this mask than just keratin – it's also formulated with rice proteins, wheat amino acids, soy proteins, collagen and panthenol. Sadly, the remaining ingredients are silicones, which isn't always a bad thing. There are some rare hair types that are easier to arrange when treated with silicones.
8. Revicare, Keratin Hair Mask Intensive Treatment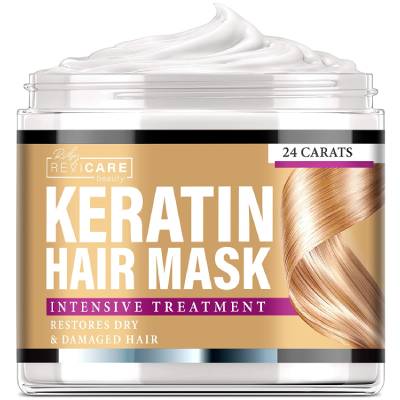 On the biggest online auction sites you can buy a hair product that combines keratin, retinol and coconut oil (suitable for low porosity hair). This product's name is Revicare – a keratin hair mask that strengthens dry, damaged and over-processed hair. This cosmetic doesn't only visibly improve the appearance of strands but also prevents, providing that you don't use too much product – indeed, too much keratin may not serve hair well. Revicare Keratin Intensive Treatment deserves some recognition, even though the satisfaction from the results obtained is an individual matter.
9. John Frieda, Hydrate & Recharge Deep Soak Masque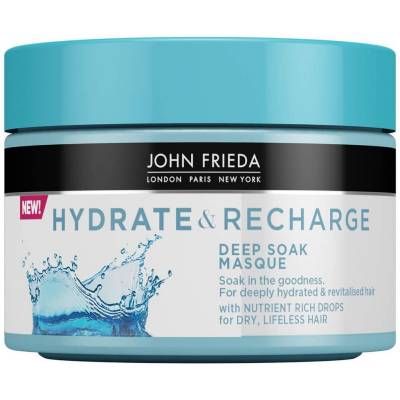 This round up of the top keratin hair masks wouldn't be complete without a product destined for dry and lifeless hair from the world-famous John Frieda brand. Two key ingredients used in this hair mask are keratin and monoi oil that together take tender care of weak hair leaving it rehydrated, shiny and sleek. Interestingly, John Frieda keratin hair mask is one of the cheapest offerings on that list so it should work for those who consider price as the most important criterion.
10. Hask, Keratin Protein Smoothing Deep Conditioner Packette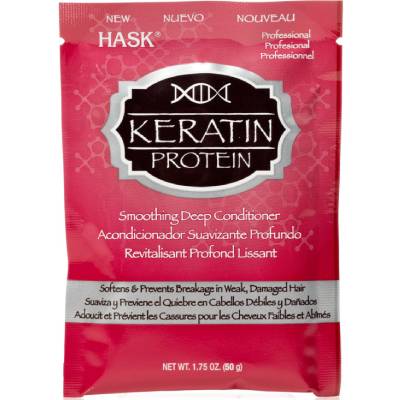 Last of all, an intriguing product that is a keratin hair mask available in… a sachet! Perfect to be thrown into a carry-on luggage or reached for when you can't use the full-size product. One sachet lets you carry out 1-2 treatments (depends on the length and thickness of the hair) to supply the strands with the essential portion of keratin. When it comes to the price, it's not that bad, however, if you want to expose your hair to a regular keratin treatment, it's better to have a full-size product close at hand.